In the news: New regulations for public charging
Announced this week is the proposed legislation for the Public Charge Point Regulations 2023, set forth by the Secretary of State, bring significant changes to the charging infrastructure landscape in the UK. These regulations are designed to promote the adoption of electric vehicles (EVs) and make charging more accessible to the general public. With the growing emphasis on sustainability and reducing emissions, the regulations aim to ensure the smooth transition to a cleaner and more energy-efficient transportation system.
But what does this mean for fleet managers and electric vehicle owners?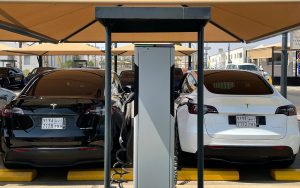 1. Payment Requirements
Well first of all, they're proposing to make several changes to how users of networks can pay for charging. Currently the systems are clunky and often require multiple apps and RFID cards… not very user friendly.  The new legislation sets out two key improvements:
Contactless payment: Ensuring all new public charge points offer contactless payment options within one year of the regulations coming into force.
Payment roaming: Ensuring that charge point operators allow users to pay using payment services provided by third-party roaming providers within two years of the regulations coming into force.
2. Pricing Transparency
Ever turned up to a charge point and have no clue how much it is going to cost to charge there? The regulation is hoping to address this by requiring operators to clearly display the charging cost:
Displaying unit of measurement: Charge point operators must clearly display the total price for charging an electric vehicle in pence per kilowatt hour before the charging process begins.
3. Performance Requirements
We all know the frustration of turning up to a public charge point and it either being offline, or inaccessible.  The proposed legislation hopes to improve this through two requirements:
Reliability: Charge point operators must ensure their network of rapid charge points is reliable for at least 99% of the time during each calendar year.
Regular reporting: Charge point operators are required to submit quarterly reports to the Secretary of State, providing information on the reliability of their charge points and the type of assistance sought by users.
However, as this is 99% reliability across an entire network, those with a large number of charge points could still potentially have multiple units offline for prolonged periods of time.
4. Open Public Charge Point Data
There are a number of key data elements the new regulation will require, both live and static data:
Data requirements: Charge point operators must hold and provide accurate data on their public charge points upon request by the Secretary of State and other relevant energy authorities.
Availability data: Making information about the working status of charge points available to the public in a machine-readable format free of charge.
Whilst this all sounds like a great step forward towards greater transparency and usability for public charging, the regulation is still a draft and not yet imposed.  As an organisation that promotes EV uptake, we always welcome improvements to public infrastructure and regulation that aims to remove the barriers to uptake.
Want to read the regulation in full?  Take a look here.