The Sun Always Shines on LCV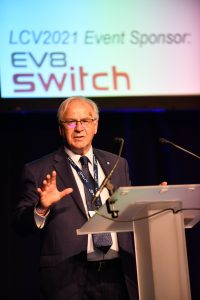 We were told the sun always shines on LCV and that was definitely true as we celebrated being LCV2021 Event Sponsor last week in the glorious sunshine at UTAC Millbrook Proving Ground, Bedfordshire.
LCV2021
The 14th annual physical event was the perfect showcase for two years of innovation featuring an amazing array of UK-developed low carbon vehicle products and solutions on display along with great networking opportunities for delegates.
LCV2021 was organised by Cenex, the UK's first centre of excellence for low carbon and fuel cell technologies with assistance from Supporting Partners including: the Department for Business, Energy and Industrial Strategy; the Centre for Connected and Autonomous Vehicles; the Office for Zero Emission Vehicles; the Department for International Trade; the Advanced Propulsion Centre; the Automotive Council; Innovate UK; Zemo Partnership; Zenzic; the Society of Motor Manufacturers and Traders; and Connected Places Catapult.
The EV8 Technologies team was hosted on the Cenex Mobility Hub, complete with 'parklet' which was the perfect place to catch up with delegates enjoying the glorious weather.  We demonstrated our new EV8 Switch app alongside some genuinely impressive innovations from WiCET, Comms365, Enterprise, RS Electric Boats, Ginger, Hewitt Studios and Coventry City Council.
Seminars
The two seminar halls were a major attraction for delegates throughout the event with an expertly curated schedule providing lively debate, inspiration and insight in equal measure. Our favourites were 'V2G – The Good, the Bad and the Ugly' which shared learnings and analysis from V2G initiatives and 'Mobility Hubs' which gave us a taste of how innovative new projects across the UK are already driving behavioural change and delivering real impact.
Virtual Session
We were privileged to kick off the LCV2021's virtual sessions with our presentation called 'Accelerating the Transition to a Zero Emission Future'. Our partners from Cenex, Kearney, NatWest and the UK Space Agency provided some background on why they support EV8 Technologies and offered real insight into the benefits of driving change.
Chris Berry, Chief Strategy Officer at EV8 Technologies introduced the session and then Emily Gravestock, Head of Application Strategy at the UK Space Agency explained why EV8 Switch was supported as part of The Human Switch project. Chris Rimmer, the EV8 Technologies product owner at Cenex outlined how the concept was robustly tested and developed and the Jon Hanson, Climate Lead Lombard part of NatWest Group outlined why the bank is supporting EV8 Switch as part of its aim to help people and businesses across the UK transition to a Net Zero carbon economy. We had some lively questioning from the expert audience and you can still watch the virtual session on demand here along with the other virtual presentations which provide a great overview of where this exciting industry is headed.
We had a great time at LCV2021 and can't wait for next year's event – roll on LCV2022 and the transition to Net Zero!